M.Sc. Andrzej Gładysiak
- Master thesis in 2015
"Inverse relationship of temperature and pressure effects in an organic crystal and in a 3-dimensional coordination polymer" (Odwrotna zależność efektów temperatury i ciśnienia w krysztale organicznym i w trójwymiarowym polimerze koordynacyjnym)
- Medal from The Rector of Adam Mickiewicz University in Poznan, during the inauguration the academic year 2015/2016 handed the for outstanding achievements in science and distinctive business in the life of our University
[medal-diploma]
[photo]
- Graduating Master Studies with Maxima Cum Laude distinction
[diploma]
[photo]
- Participant of
TEAM Programme
of
the Foundation for Polish Science
"Synthesis and Structure of Special Materials in Extreme Conditions"
from 10/2013 to 03/2014

Scientific articles:
To request PDF's of inividual articles, please e-mail to Ph.D. Michalina Rusek:

Compressed arsenolite As4O6 and its helium clathrate As4O6.2He
P. A. Guńka,
K. F. Dziubek
,
A. Gładysiak
, M. Dranka, J. Piechota, M. Hanfland,
A. Katrusiak
, J. Zachara
Cryst. Growth Des.
2015
15
3740-3745
link
Giant negative area compressibility tunable in a soft porous framework material
W. Cai
,
A. Gładysiak
,
M. Anioła
, V. J. Smith, L. J. Barbour,
A. Katrusiak
J. Am. Chem. Soc.
2015
137
9296-9301
link open access
The cover of JACS. 137 (2015) issue 29 with highlights of our article: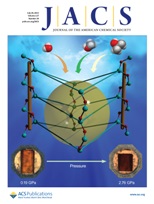 Department of Materials Chemistry, Adam Mickiewicz University
Umultowska 89b, 61-614 Poznań, Poland
tel.: +48 618291590,-1648; fax.: +48 618291555; URL: hpc.amu.edu.pl